The induction motor is called "Mother of Industry" because all manufacturing is dependent on them. Mitsubishi Electric Induction M ...

Mitsubishi Electric Watt-Hour Meter is famous of its accuracy, reliability and durability. Its quality has been trusted and relied ...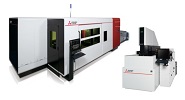 Mitsubishi Electric Processing Machine is a precise machine produced by highly accurate mechatronics products. It greatly help imp ...

For controller (PLC, CNC), Human-Machine Interfaces(HMIs), Inverter, Motion Controllers, AC Servos, and Industrial Robots please c ...